Dubai gives a glimpse inside its Expo Sustainability Pavilion
---

https://cdn.cnn.com/cnnnext/dam/assets/210211115711-restricted-expo-2020-sustainability-pavilion-super-tease.jpg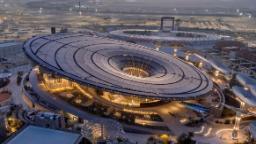 Despite the pandemic, the World Expo is set to see more than 190 countries showcase innovations around the themes of sustainability, mobility and opportunity.
The Sustainability Pavilion will be a centerpiece of the event. Called "Terra" — meaning planet Earth — the building generates fresh water from the surrounding humid air. Its 130 meters-wide roof canopy and surrounding "Energy Tree" structures are fitted with more than 1,000 solar panels, which will provide some of the energy needed to host this massive event.
"We're trying to showcase that humanity can build buildings that do live in harmony with the environment around them, that do manage to grab the resources around them whether that's sun or water," explains John Bull, director of the Sustainability Pavilion.
"Even in this environment, which is somewhat dry, we're still able to get enough water which allows this building to be self-sufficient."
This pavilion is the first of the Expo structures to be completed. Until April 10, residents and visitors will be offered a glimpse inside, where a range of interactive experiences are intended to help people understand their impact on the environment.
"Through those immersive and interactive experiences, that's how we can really connect to people. That's how you start conversations that matter, rather than just giving information," says Bull.
Expo will run from October 2021 to the end of March 2022. Once the event is over, the Sustainability Pavilion will form part of a science center in District 2020 — a new residential and business development that will evolve from the Expo site.
---
Trending Now
You may also like